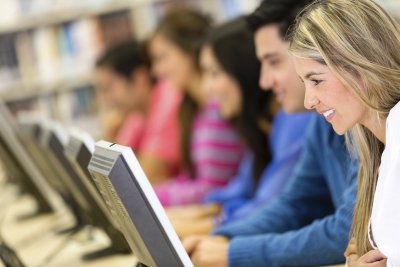 Learn at over 250 Locations Nationwide or Online
Business Computer Skills offers online and instructor led computer training classes for people at any skill level. Our computer training courses focus on basic, intermediate and advanced computer skills and Microsoft Office products.
We offer local instructor led computer training classes, as well as private group training across most of the United States. Additionally, we have comprehensive online computer training courses, so you can build your computer skills anywhere. Whether you are a complete beginner or an experienced professional, Business Computer Skills has the right class for you.
Students can learn from the familiarity and comfort of their home or office, or at one of 250 plus locations. Either way, they will get the benefit of a live instructor, and an interactive classroom.
Why choose Business Computer Skills?
Professional Training That Fits Your Needs -- We offer training where you need it, when you need it, and at an affordable price. We pride ourselves on providing a complete mix of training solutions for individuals and businesses.
Private Group Training (On-Site Training and Online Training) -- Train your team on their own computers at your office, on the date you chose, with a live instructor. Our private group training is fully comprehensive, and priced lower than traditional instructor-led courses. No need to spend extra money on travel expenses to complete your training when the trainer can come to you. On-Site training and Online training options are available. Group training options are currently only available for Microsoft Office applications. If you have a group of 4 or more students that need training in a specific subject, we can arrange a group training class at your office. If you would like a quote for private training for your organization, please select your topic and we will get you a quote within in one business day.
Local Instructor Led Training -- Students can attend at one of the over 300 local training centers, or from their home or office. Our local instructor led training is conducted using the RCI training method, with a live instructor conducting the class. Computers are provided for the students who attend at the local training centers. Printed manuals and exercise files are provided for all students.
State of the Art Online Learning Environment-- Our online learning environment allows students and the instructor to interact with each other with ease. We use sophisticated online collaboration tools to facilitate our online training seminars. Instructor-led classes are conducted using the RCI (Remote Classroom Instruction) format.
Self-Paced Online Classes-- We offer affordable self-paced online training courses for Microsoft Office applications. Classes are comprehensive, available 24/7 and can be accessed by any computer with an internet connection. Students learn at their own pace and can repeat lessons as many times as needed during the license period. 6 and 12 month user licenses are available.
Small Class Sizes -- Class sizes are limited to 12 students for our Instructor-led training courses. This class size is small enough that each student can get the individual attention they need, while being large enough to get the true classroom experience and interaction with other students. On-site classes can accomodate more than 12 students if needed.
Convenient Class Schedules -- Most Business Computer Skills training classes are completed in a convenient one-day training session, which is between 10am and 4:45pm Eastern Time. Your time is valuable, so we have built our courses to fit your schedule. We offer at least one session of each course, every month.
Free Student Course Manual and Practice Files -- With each instructor-led course registration, you will receive a course manual and practice files for that course. It is the same manual the instructor uses to teach the course, and contains a wealth of training materials, example problems, sample demonstrations, tutorials, sample exams and much more. You will receive the course manual and practice files before your class, so you can follow along with the instructor, and take as many notes as you need. Course manuals are not provided for self-paced classes.